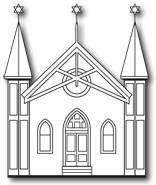 After obtaining ownership of the Hebrew Cemetery by the Temple Israel Foundation in 1993, The first and greatest task was to bring the cemetery back into good shape after nearly seven decades of neglect! The first several years was dedicated to clearing massive overgrowth, reestablishing a perimeter fence, and start the identification of graves and replacement of markers as necessary.
This massive undertaking could not happen in great force without the help of B'nai B'rith Denver dedicating their time and effort to initially cleaning up the cemetery, then providing regular maintenance every year at the end of June during a special event dedicated to cleaning up the cemetery after every winter.
The usual schedule (pending any changes in a particular year) involves having a Sacrit service at Temple Israel on Saturday morning followed by an oneg. That evening, a meal is served at the Episcopal Church across the street. On Sunday morning, the group does the cleanup at the cemetery followed by a short memorial service and another Kosher meal. B'nai B'rith has additional activities specific to their organization.
Temple Israel Foundation
208 West 8th Street
Leadville, Colorado 80461
303.709.7050
Temple Israel Museum
201 West 4th Street
Leadville, Colorado 80461
Hebrew Cemetery
Within Evergreen Cemetery
North end of James Street, Leadville