Also, click the below buttons to read extensive year by year information about the Temple Israel building AND the Orthodox temple building.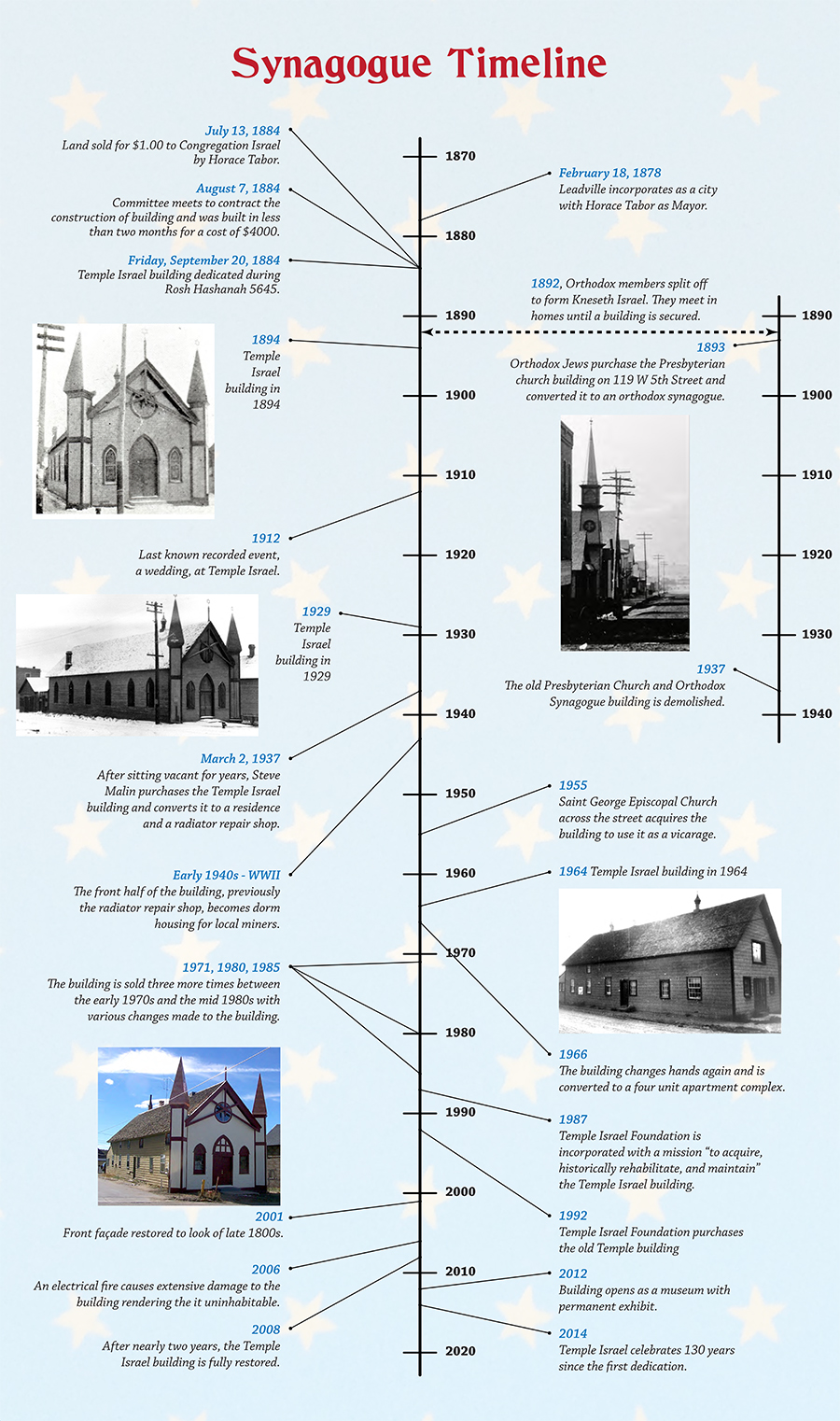 This is the text of the graphic above. Also, this graphic is available for download.
February 18, 1878
Leadville incorporates as a city with Horace Tabor as Mayor.

July 13, 1884
Land sold for $1.00 to Congregation Israel by Horace Tabor.

August 7, 1884
Committee meets to contract the construction of building and was built in less than two months for a cost of $4000.

Friday, September 20, 1884
Temple Israel building dedicated during Rosh Hashanah 5645.

1892
Orthodox members split off to form Kneseth Israel. They meet in homes until a building is secured.

1893
Orthodox Jews purchase the Presbyterian church building on 119 W 5th Street and converted it to an orthodox synagogue.

1912
Last known recorded event, a wedding, at Temple Israel.

March 2, 1937
After sitting vacant for years, Steve Malin purchases the Temple Israel building and converts it to a residence and a radiator repair shop.

1937
The old Presbyterian Church and Orthodox Synagogue building is demolished. (With this, both temples are gone from Leadville.)

Early 1940s - WWII
The front half of the building, previously the radiator repair shop, becomes dorm housing for local miners.
1955
Saint George Episcopal Church across the street acquires the building to use it as a vicarage.

1966
The building changes hands again and is converted to a four unit apartment complex.

1971, 1980, 1985
The building is sold three more times between the early 1970s and the mid 1980s with various changes made to the building.

1987
Temple Israel Foundation is incorporated with a mission "to acquire, historically rehabilitate, and maintain" the Temple Israel building.

1992
Temple Israel Foundation purchases the old Temple building.

2001
Front façade restored to look of late 1800s.

2006
An electrical fire causes extensive damage to the building rendering it uninhabitable.

2008
After nearly two years, the Temple Israel building is fully restored.

2012 Building opens as a museum with a permanent exhibit.

2014
Temple Israel celebrates 130 years since the first dedication.