Restoration Plans
With the acquisition of the synagogue building, the Temple Israel Foundation began what proved to be a four phase restoration project that returned the structure to use as a museum in addition to its original function as a sacred place. These phases coincided with matching grants received from the Colorado State Historical Fund which accounted for approximately one half of the total cost of the project. The first phase, accomplished in 1994, was dedicated to researching and assessing the structure with the goal of developing plans for the restoration of the building as it was prior to 1895, but including the necessary modernizations. Beginning in 1994 with the receipt of a matching grant from the Colorado State Historical Fund, the Temple Israel Foundation pursued the historically authentic restoration of the Temple Israel building. The first grant funded preliminary drawings and an assessment by Long Hoeft Architects of Georgetown, Colorado.
Original Restoration Floor Plan

Transverse Section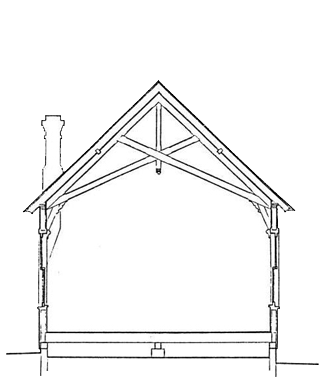 North Elevation
East Elevation

After receipt of the preliminary drawings and assessment, the Foundation sought the resources necessary to accomplish the next phase. In 2000, Long Hoeft Architects were re engaged to supply working plans to restore the front facade of the Temple. With these plans in hand, the Foundation was awarded a second matching grant from the Colorado State Historical Fund on January 18, 2001. Significant funding was also contributed by Miriam K. Rothenberg and the May Department Stores. Additionally, Long Hoeft Architects was commissioned to provide working drawings for the entire project.
Front Façade Details