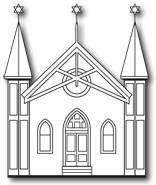 June 1879
Gustave "Fred" Jelenko dies, the first of the Leadville Jews to die making clear of the need for a cemetery.
January 1880
101,000 square feet of the southwest corner of the Evergreen Cemetery was transferred to the Hebrew Benevolent Association.
Gustave "Fred" Jelenko was the first buried
in the new Hebrew Cemetery.
20th Century
The Jewish people started leaving Leadville by the later 1880s, 1890s, and early 1900s, usually to larger cities for more opportunities. As a result, very few Jews were left to care for the Hebrew Cemetery. As a result, the Hebrew Cemetery suffered from nearly seven decades of neglect, despite isolated, individual efforts throughout the 20th century.
1981
Minette Miller dies. She is the last known descendant living in Leadville of the former population of Jews in Leadville.
August 1999
The Hebrew Cemetery was reconsecrated after years of cleanup efforts by the Denver chapter of B'nai B'rith.
2004
Missing grave markers were replaced for the known grave sites.
1884
Temple Israel building dedicated during Rosh Hashanah 5644.
February 18, 1878
Leadville incorporates into an official town with Horace Tabor elected as Mayor.
2001
The Hebrew Cemetery has a new Block E established for modern burials.
Temple Israel Foundation
208 West 8th Street
Leadville, Colorado 80461
303.709.7050
Temple Israel Museum
201 West 4th Street
Leadville, Colorado 80461
Hebrew Cemetery
Within Evergreen Cemetery
North end of James Street, Leadville