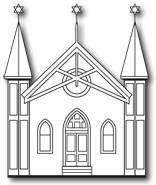 We have gathered these links to various sites of interest, sorted by category.
Jewish Resources and Museums
General Leadville Information
Leadville Museums and Historical Buildings/Sites
Leadville History
Contemporary News Reports about Temple Israel
Contemporary News Reports about the Hebrew Cemetery
Brief History of Leadville
Leadville gets its start actually with the founding of another town. Upon the Pike's Peak gold rush, gold was discovered in 1859 in California Gulch, southeast of where Leadville currently exists. Quickly, the town of Oro City was established in 1860. The boom was short and the gold mining was dampened by heavy black sand.
By the mid 1870s, the miners discovered that the heavy black sand was cerussite (Lead carbonate: PbCO3) that had a high content of silver. They discovered the source and found lodes of silver-lead deposits. The mining camp was initially called Slabtown, but later changed to Leadville. By 1880, Leadville had the largest and richest silver strikes and grew to a population of over 14,000 people.
To learn more about the history of Leadville, go to these sites:
Facts of 21st Century Leadville
Founded in 1877
Incorporated on February 18, 1878
Leadville is in Lake County
Official elevation of 10,152 (the general area varies within ± 100 feet)
Known as the highest city in the United States, the Two Mile High City, and Cloud City
Area of town: 1.1 sq mi (2.86 km2)
Population: 2,602 (2010 census)
Is in the Mountain Time Zone
Is just east of the Continental Divide
In the 1800s, Leadville was the second most populous town in Colorado. Denver was the most populous.
Coordinates: 39°15′00″N 106°17′30″W
Area code: 719, Zipcode: 80461
Summer temperatures will rarely be in the 80s.
Average annual snowfall is over 200".
Downtown Leadville looking North on Harrison Avenue, summer 2014.
Temple Israel Foundation
208 West 8th Street
Leadville, Colorado 80461
303.709.7050
Temple Israel Museum
201 West 4th Street
Leadville, Colorado 80461
Hebrew Cemetery
Within Evergreen Cemetery
North end of James Street, Leadville