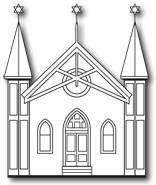 Museum Hours
Fall-Winter-Spring 2016-2017
November 2016 - mid May* 2017
We are available by appointment year round. Please call ahead of when you would like to visit the museum.
Summer 2017
mid May* - October 2017*
Open Daily
10:30 AM - 6:00 PM*
*Date and hours are tentative and could change.
The Temple Israel museum is located at:
201 West 4th Street
Leadville, Colorado 80461
The museum is one block west of Harrison Avenue on the southwest corner of the intersection of 4th Street and Pine Street.
Temple Israel is unique among restored buildings in the American West. Built in 1884, this frontier synagogue served a surprisingly large and active Jewish community until about 1912.
Although no longer a regular, active synagogue, the building was fully restored by 2008. A permanent exhibition opened in 2012 that documents pioneer Jewish life with a collection of artifacts about Leadville, its resident Jews, Temple Israel as a synagogue, and life in a mining town in the 1880s and 1890s.
While the building has been restored to its original 1884 appearance, it is no longer used as a synagogue and now serves primarily as a museum.
However, the building can be made available for weddings, Bar Mitzvahs, Bat Mitzvahs, funerals, memorials, or other special event.
If you are interested in a rental, please contact the Foundation at: 303.709.7050.
Temple Israel Foundation
208 West 8th Street
Leadville, Colorado 80461
303.709.7050
Temple Israel Museum
201 West 4th Street
Leadville, Colorado 80461
Hebrew Cemetery
Within Evergreen Cemetery
North end of James Street, Leadville