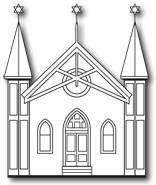 Leadville and the Jewish Emigrants
Jews migrated to the West and to Leadville, Colorado for many of the same reasons other people did—to improve their social and economic status, to find adventure, and to reinvent themselves, among other reasons. During the California Gold Rush of the 1850s, many Jewish merchants rose to social and economic prominence.
Once silver was discovered Leadville, the mining economy exploded and the population grew to approximately 30,000 residents, of which about 300 were Jews. By the late 1870s, an influx
of migrants flooded the small mountain town. People from a variety of backgrounds, mostly from Europe, made Leadville their home.
Patterns for establishing communal and financial stability was found in many Old West towns of the 1800s. Typically, one family member went ahead to a small town to initiate a business outpost. Later, cousins, brothers, and other male relatives would join them to help run the business.
Photography Studios in Leadville in the late 1800s
Leadville was home to many photography studios. Many of the studios moved to different buildings and some joined or split partnerships over time. This list reflects simply an inventory of the studio names as taken off cabinet cards. Over time, more information and details will be added to make this list more useful.
Payne & Stockdorf, 613 Harrison Avenue
Payne & Stockdorf, 413 Harrison Avenue
O'Keefe & Stockdorf
Dave Endsley & Company, 219 Harrison Avenue
Leadville Art Gallery, 219 Harrison Avenue
F. O'Keefe
Luke
W. O. Luke
Wing's Gallery, 506 Harrison Avenue
F. W. Grove
Grove & Helme
Grove's Studio
E. N. Clements, located opposite the post office
Brisbois
The Leadville Traveling Cabinet Photo Gallery
Temple Israel Foundation
208 West 8th Street
Leadville, Colorado 80461
303.709.7050
Temple Israel Museum
201 West 4th Street
Leadville, Colorado 80461
Hebrew Cemetery
Within Evergreen Cemetery
North end of James Street, Leadville