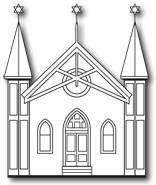 The museum within the Temple Israel building opened September 2012, with a new permanent exhibition: Frontier Jewish Leadville. The next year, a small exhibition called Minette Miller: A Portrait opened at the Lake County Public Library, then ended in early 2015. A new exhibition called Selling History: Advertisements of Jewish Leadville Businesses opened in July 2015 in the choir's loft of the building.
As the museum continues to grow in artifacts and in public knowledge over the next several years, more exhibitions will open.
The existing exhibitions are now available online by clicking the links to the right or the boxes below.
Temple Israel Foundation
208 West 8th Street
Leadville, Colorado 80461
303.709.7050
Temple Israel Museum
201 West 4th Street
Leadville, Colorado 80461
Hebrew Cemetery
Within Evergreen Cemetery
North end of James Street, Leadville