[This page is in development.]
This previous Presbyterian church at 119 West Fifth Street became an Orthodox Synagogue for Kneseth Israel in 1893. The building was torn down in 1937 and now serves as a parking lot next to the Leadville chapter of Elks.
The below graphic shows the Orthodox synagogue building loction at four years.
1889: The building was the Salvation Army Barracks and was previously a Presbyrerian church.
1895: The building became the Orthodox Synagogue.
1937: The previous religious building is vacant. The building was torn down after this date.
2020: Today, the land and surrounding plots are part of the Leadville Elks lodge.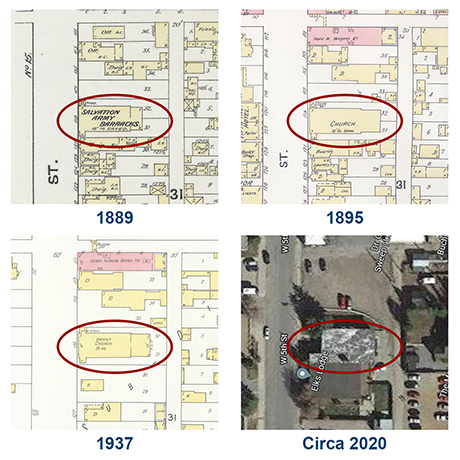 The Knesseth Israel building in 1889, 1895, 1937, and circa 2020.
Courtesy of Sanborn Fire Insurance maps and Google Maps.


To cite any of the information in this biography, please use the following reference.

xxxxxxxx