Henry
Born 18th August, 1849
Born in Allenstenstadt (Altenstadt?), Germany
Married to Pauline
Immigrated 19th June, 1870
Naturalized 24th September, 1884
Merchant
Pauline
Born 25th July, 1862
Born in Nuremburg, Germany
Married to Henry
Housewife
Hebrew Ladies Benevolent Association Member
Henry Angerman was born in the town of Altenstadt in the German state of Hesse during August, 1849. At the age of 21, Angerman immigrated to the United States. He gained his citizenship in 1884 in Buena Vista, south of Leadville. Angerman was married to Pauline (surname unknown) but the date of their marriage is not clear. Pauline was born in Nuremburg, Germany on the 25th of July 1862.[1] The Angermans lived in Buena Vista in the early 1880s[2], and moved to Leadville in 1886 when they first appeared in the city directories.[3]
Angerman partnered with Samuel Berry in a clothing store located at 508 Harrison Avenue. The two remained in business together until 1890, when Angerman started his own enterprise at 420 Harrison Avenue.[4] His store specialized in men's furnishing and shoes.[5] The following excerpt from the Herald Democrat, advertises the opening of Angerman's store:
"Mr. Henry Angerman has shown his faith in the camp by opening up a business here again. The new store is known as the Rochester boot and shoe house and is located at 420 Harrison avenue. It is one of the neatest business houses in the city and the stock carried beside comprising nearly every style of boots, shoes, etc., also consists of an elegant line of gent's furnishing goods. With a gentleman at its head such as Henry Angerman, the prospects for the new store are very bright."[6]
Angerman's store was relatively stable compared to others during the period because it remained at 420 Harrison Avenue for the entirety of its existence until 1898.[7]
When Angerman first came to Leadville his family resided at 125 W. 7th Street during 1886 and 1887.[8] In 1890, the Angermans moved to 208 West 7th Street where they spent the rest of their time in Leadville.[9]
The Angermans were highly involved in Leadville's social scene. They frequently attended dances and other events, both gentile and Jewish. Mrs. Angerman was part of the Hebrew Ladies Benevolent Association, often attending and hosting events.[10] Among the Jewish events the couple attended were the Chanukah Festival in 1889,[11] the Hebrew Ball of 1890,[12] and the Hebrew Ladies Strawberry Festival in 1892.[13] Mrs. Angerman also hosted a reading club at her home in 1898 where they read Longfellow's "Paul Revere's Ride." [14] In 1888 Mr. Angerman attended a housewarming party for the Metz family. There were quite a few other Jews who attended this event, such as the Hirsch, Schayer, Kahn, Schoenberg, Heimberger, Schloss, Berry, Haer, Braham, Janowitz, Bergerman, Coen, and Mayer families.[15]
Angerman was also active in Leadville's civic society as a responsible citizen who contributed to the maintenance of his community. In 1889, Angerman donated to the Leadville Drum Corps so they could travel to Milwaukee to take part in a competition.[16] In 1899, he contributed to a fund to keep the city sidewalks free from snow.[17]
1899 was the last year of operation for the Angerman business in Leadville. That spring, advertisements for the closing out sale of the Angerman business began to appear in the paper.[18] Mr. Ackerman took over the building later that year when the Angerman family moved out.[19] The couple decided to leave for Germany, although it is not clear whether it was a vacation or a permanent relocation. Mrs. Kahn held a going away party for Mrs. Angerman that June and Mrs. Angerman was presented with a sterling silver salad set.[20] It is unclear what became of the Angermans after they left Leadville for Germany, however, they were an example of a socially involved and successful family in Leadville.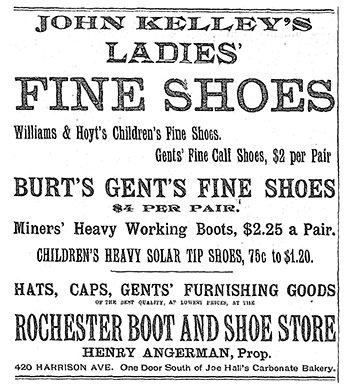 Advertisement for Rochester Boot and Shoe Store owned by Henry Angerman in the Herald Democrat, August 24, 1889.
1 U.S. Passport Applications 1795 – 1925. Passport Application May, 1899.
2 Ibid.
3 1886 Leadville City Directory
4 1886 – 1890 Leadville city directories.
5 1890 Leadville City Directory
6 "A Credit to the City." Herald Democrat, July 12, 1889. Accessed July 24, 2017. https://www.coloradohistoricnewspapers.org
7 1886 – 1898 Leadville city directories.
8 1886 and 1887 Leadville city directories.
9 1890 – 1898 Leadville City Directories.
10 "The World of Society." Herald Democrat, March 21, 1897. Accessed July 24, 2017. https://www.coloradohistoricnewspapers.org
11 "A Chanucha Festival" Leadville Daily Chronicle, December 23, 1889. Accessed July 24, 2017. https://www.coloradohistoricnewspapers.org
12 "An Enjoyable Evening." Herald Democrat, December 16, 1890. Accessed July 24, 2017. https://www.coloradohistoricnewspapers.org
13 "Very Pleasant Soiree." Herald Democrat, June f9, 1892. Accessed July 24, 2017. https://www.coloradohistoricnewspapers.org
14 "The World of Society." Herald Democrat, September 18, 1898. Accessed July 24, 2017. https://www.coloradohistoricnewspapers.org
15 "A Splendid Affair." Leadville Daily Chronicle, September 4, 1888. Accessed July 24, 2017. https://www.coloradohistoricnewspapers.org
16 "They Will Go." Herald Democrat, August 23, 1889. Accessed July 24, 2017. https://www.coloradohistoricnewspapers.org
17 "More Campaign Funds For Snow Birds." Herald Democrat, February 12, 1899. Accessed July 24, 2017. https://www.coloradohistoricnewspapers.org
18 "Angerman's Closing Out Sale." Herald Democrat, March 20, 1899. Accessed July 24, 2017. https://www.coloradohistoricnewspapers.org
19 "A Misfit Clothing Parlor." Herald Democrat, February 8, 1900. Accessed July 24, 2017. https://www.coloradohistoricnewspapers.org
20 "The World of Society." Herald Democrat, June 4, 1899. Accessed July 24, 2017. https://www.coloradohistoricnewspapers.org