George Edward King, Architect
George Edward King
Born: November 15, 1852; London, England
Died: November 25, 1912 (age 60); El Paso, Texas (Concordia Cemetery)
Came to the United States: late 1860s or early 1870s
Wife: Harriet King
Children: George Edward King, Jr (b 1875)
Profession: AIA Architect
George Edward King was born in London, England on November 15, 1852. He was the youngest of two(?) brothers and a sister. King came to the United States possibly in the late 1860s or early 1870s. He lived in Boulder in the 1870s, during which he married Harriet and had a son in 1875. By 1878, King was in Leadville. His brother John was a builder in England and along with their sister's husband, James Martin, frequently visited George in the United States. All three of them worked together on various projects in the 1870s and 1880s. George King specialized in the French Mansard/Second Empire style, as reflected in many of his designs.
According to the 1879 Leadville City Directory (published once a year starting in 1879), George E. King had his architect office at 29 Harrison Avenue in Dix's building and resided above Dix's grocery store at the same address (several offices existed above the store as well as residences, including Dix's own residence). The 1880 city directory shows his office at 166 Harrison Avenue in the Frost Room above Haswell's Drug Store, and King's residence at his new house he designed and built in 1879 located at 212 W 9th Street. The 1880 directory also shows that he had a draftsman named Samuel Bland, who does not appear again in future directories. The 1881 directory shows that his office moved to 502 Harrison Avenue in room 20 of the Howell Block and went by the business name of George E. King & Company. John King apparently joined his brother in the business and resided with George at 212 W 9th Street. This arrangement of business and residence appears to stay the same through 1885, except for the office moving in 1883 from room 20 to room 1 within the same building. In 1885, neither George King, John King, nor the business appears in any directory after 1885. However, the Western Association of Architects membership list shows George as still a resident of Leadville in 1886 (contact information could have been submitted to WAA before the 1886 city directory was published and before King moved). The 1890 through 1897 membership lists show King residing in El Paso, Texas.
Also in the 1890s, George had offices in El Paso and in Mexico City, with the following letterhead information:
"Office of Geo. E King
Architect and Superintendent
Wells Fargo Bank Block
El Paso, Texas"
and
"Office of Geo. E King
Apartado 537
Mexico City, Mexico".
According to the American Institute of Architects, King became a member of the Western Association of Architects in 1885. In 1889, the Western Association of Architects merged with the American Institute of Architects, and AIA members were upgraded to the status of Fellow to match the status of the WAA members.
Buildings designed in Boulder
Old Main, Colorado State University, 1878
Arnett-Fullen House, 646 Pearl Street, 1877
Buildings designed in Leadville
Tabor Opera House, 308 Harrison Avenue, 1878
The Clipper Building (Silver Dollar Saloon), 315 Harrison Avenue, 1879
King's personal residence, 212 West Ninth Street, 1879
Lake County Courthouse, West side of Harrison Ave between 4th and 5th Streets, 1880
Central School, NW Corner of Chestnut and Spruce Streets, 1880 or 1881
9th Street School, Corner of 9th and Poplar Streets, 1881 or 1882
Temple Israel, 201 W 4th Street, 1884
Tabor Grand Hotel, 711 Harrison Avenue, 1885
Delaware Hotel, Delaware Block, 700 Harrison Avenue, 1886
Post Office (1904-1973), now City Hall (1973-present), 800 Harrison Avenue, 1904
Buildings designed in Mexico
Casino Club, Juarez
Opera House, Zacatecas
Opera House, Mexico City
Ricardo Castro Theatre, Durango, 1900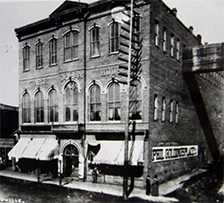 Tabor Opera House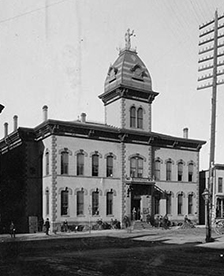 Lake County Courthouse

First known advertisement in Boulder, Colorado
May 14, 1875
Boulder County News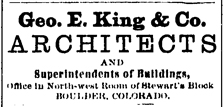 Last known advertisement in Boulder, Colorado
October 18, 1878
Boulder County News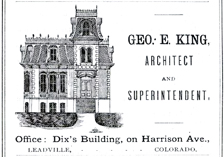 1879 Leadville City Directory ad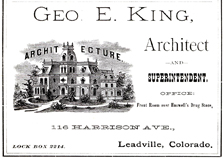 1880 Leadville City Directory ad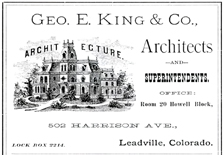 1881 Leadville City Directory ad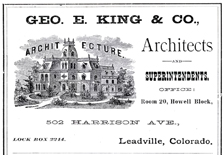 1882 Leadville City Directory ad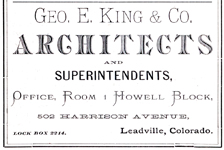 1884 Leadville City Directory ad