Robert "Bob" M. Murdoch, Builder & Contractor
Robert M. Murdock was a builder and carpenter in Leadville during the silver boom period. The Leadville city directories show two spellings of his name, Murdoch and Murdock. This is likely the same person since both spellings are never together in the same directory and that the profession for both spellings is that of a carpenter. He arrived in Leadville circa 1878 from Washington DC where he was also a carpenter.
In 1880, Murdoch was in partnership with Henry Search and known as Murdoch & Search. They both resided at 311 W 3rd Street and conducted their business in the rear of the same lot. However, this partnership was probably short lived for later directories do not show the partnership of Search and Murdoch and do not show Henry Search at all. An article in the October 9, 1880 issue of the Leadville Weekly Herald stated that builders Murdoch & Pearch built the houses of David May and Moses Shoenberg at the corner of W 5th Street and Pine Street. However, Pearch could be a misspelling for Henry Search, since no surname of Pearch shows in the 1879, 1880, or 1881 directories.
Despite the split of the partnership, the 1881 and 1882 directories showed Murdoch as having the same business address in the rear of 311 W 3rd Street, but that his residence is also the same address. Another person showed to reside in the main house on 311 W 3rd Street.
In 1883, Murdock (other spelling) appears to gain a shop in the rear of 144 E 5th Street and moved residence to room 12 of the Keystone Block.
The 1884 directory implies that Murdock was successful with his business with a separate listing in the Contractors and Builders section of the directory, as well as employing a carpenter named Frank Sawyer. Murdock's shop is still in the rear of 144 E 5th Street, but his residence shows to be at 425 Harrison Avenue.
The 1885 directory does not show a separate business address but does show a different residence at 427 Harrison Avenue.
The 1886 directory shows Murdoch with a shop at 131 E 4th Street and a residence at 30 Union Block.
The 1887 directory shows him with a shop on St. Louis Avenue, between Harrison Avenue and Poplar Street, and a residence at 407 Harrison Avenue.
With the oddest change yet, the 1888 directory shows Robert M. Murdoch with a profession as a miner and living at 413 W 4th Street. Murdoch does not appear in the directories after 1888.
According to an article in the Friday, August 8, 1884 issue of The Leadville Daily Herald, the building committee met on August 7 at noon to review the bids and make a decision, to which they chose Murdock as the lowest bidder to build the Temple Israel building.
Murdock built the following structures in Leadville, among others.
David May residence, 201? W 5th Street, 1880
Moses Shoenberg residence, 203? W 5th Street, 1880
Joe Shoenberg residence, 203 W 4th Street, 1880
Temple Israel, 201 W 4th Street, 1884
Tabor Grand Hotel, 700? Harrison Avenue, 1884-1885
Theodore Schultze residence, 200? W 7th Street, 1887
J.H. Stotesbury residence, 201? W 8th Street, 1887?
Breene Block, SE corner of Harrison Avenue & 4th Street, 1887-1888
B.F. Follett residence, 226 W 8th Street, 1887-1888?
Armory building, 140 E 5th Street, 1888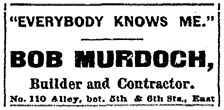 This same ad appears regularly in the Leadville Daily Herald from August 1884 through March 1885.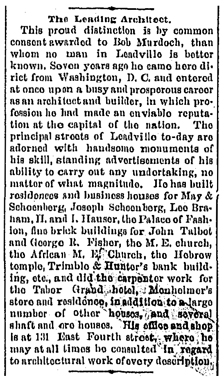 This glowing article appeared in the Leadville Daily Herald on January 1, 1886. The article incorrectly refers to Murdoch as an "architect".